Welcome to Our Lady of the Assumption Parish!
A member of the Windsor Heritage Catholic Family of Parishes
Join Us In Person or Online
Parish Events
---
Click the event name for more information.
October 15th, 2023 – 8:30pm
Assumption Church – Rosary Hall
Jesus Youth
November 30th, 2023 – 7:30pm
Assumption Church
Handel's Messiah At Assumption Church
Follow Us
---


Parish Bulletin Board
---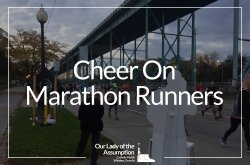 September 30th, 2023
On Sunday, October 15th, the Detroit Free Press International Marathon will come off the Ambassador Bridge and down Huron Line towards Riverside Drive. We are inviting parishioners to cheer…[read more]
Our Lady of the Assumption Parish, a Roman Catholic Parish in the Diocese of London Ontario, acknowledges that Assumption church sits on the traditional territory of the Three Fires Confederacy. The Huron, who were given refuge by the Three Fires Confederacy, shared this land with Assumption Parish in order to establish the first Catholic parish in Canada west of Montreal.