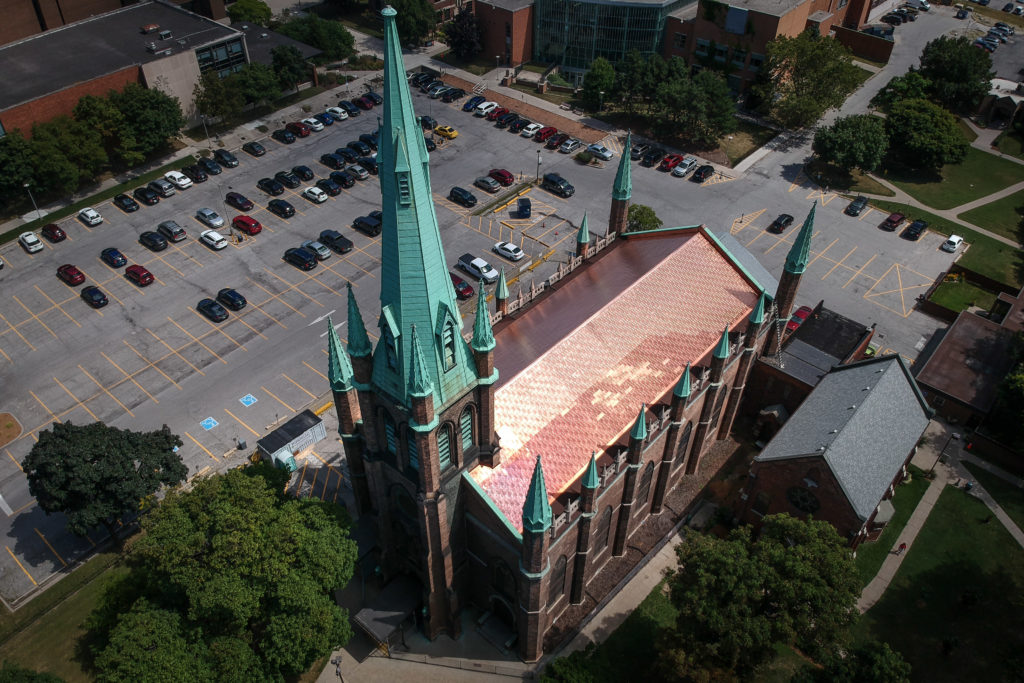 Sundays: 9:00am, 11:00am, and 7:30pm
Weekdays: 8:00am in Rosary Chapel
Confessions in Rosary Chapel:
Saturday: 11:00am to 12:00pm
Sunday: 6:30pm to 7:15pm
Reservations are required for all weekend masses.
Weekday masses are first come first served.
If you have never been to Mass at Assumption Church, please read the reservation information and Mass procedures below first.
Please remember that returning to Mass in-person is optional
What You Need to Know Before Returning to Mass:
Some parishioners are still expressing concerns about gathering in churches. As well, in light of the need for continued physical distancing, we will not be able to welcome everyone back for the foreseeable future. Therefore, the Dispensation from the Sunday Obligation will continue until 27 February 2022.
We will continue to provide the Live Stream of Mass for those who do not yet feel comfortable returning to worship at the Church.
Before departing for Mass take the Ontario online self assessment tool, and check your temperature to ensure that you do not have a fever. Anyone with a temperature over 37.5C or 100F must not attend Mass.
Diocese of London Mask Policy:
Masks are now required by provincial law in all public buildings, which includes churches.
The exemption remains in place for those who have a medical condition and for children under the age of two years.
As per Bishop Fabbro, those who refuse to wear masks without a proper exemption can be turned away at the door of the church, for the sake of the health and safety of all who gather in our churches.
Pastors/administrators of parishes are obliged to enforce this directive.
Those seeking an exemption from wearing a mask in our churches must bring their pastor, prior to 1 January 2021, evidence from their physician, nurse practitioner, social worker, psychologist or occupational/respiratory/physical therapist attesting to their condition.
When you register for Mass, you should alert the parish team that the pastor has granted them an exemption, so that you can be seated in a designated area.
You should wear a mask but only to enter and exit the church unless a documented disability prevents you from doing so even briefly.
Parishes should make arrangements to take Communion to those with a mask exemption in their seats, so their movement in the church is minimized. They must wear a mask for the brief period of receiving Communion when approached by the minister unless their disability prevents them. Where there is strict impossibility to wear a mask, arrangements for Communion should be made with the pastor so that a safe means of distribution can be ensured. Those with an exemption must always maintain social distancing.
This new protocol does go beyond the requirements in most health unit orders and local by-laws, but they are required to protect the safety of our parishioners, parish teams and volunteers while on church property. Infections continue to increase in our communities and small sacrifices like wearing a mask can slow the transmission of the virus, and are a sign of our love for our neighbours and help prevent people from taking advantage of the exemptions for personal reasons.
Capacity and Seat Reservation:
Because it is impossible to accommodate all our parishioners for Sunday Masses, we are asking parishioners to reserve their seat online before each weekend.
Reservations open at 1:00pm on Tuesdays and closed at 4:00pm on Thursdays on our website.
Seat reservations information can be found at the bottom of this page.
Mass Arrival Procedures:
Please ensure that you arrive at the Church early, to allow time for check-in and screening procedures. We would like all Parishioners with reservations to be checked in and seated 5 minutes before Mass begins. If you arrive after Mass begins, we cannot guarantee that there will be a seat available for you.
A volunteer will verify your reservation, and ask a series of screening questions.
From there, each household or individual will be greeted by an usher. The usher will direct you to sanitize your hands as you enter the building, and then will seat you. Please note that in an effort to promote physical distancing, you will be seated in the Church in a pre-determined pattern. Please note that you must sit where you are directed to by the Usher, and you may not move from your spot until it is time for Communion.
Mass Procedures:
Throughout Mass, please participate as you normally would, by speaking the responses, and standing, sitting, and kneeling as you normally would.
Please keep your face mask on for the duration of Mass.
There is to be no physical contact between households at the the Sign of Peace or hand holding during the Lord's Prayer.
Baskets will not be passed during the offertory. You will be able to place your weekly gift in a basket as you exit the church.
Communion Procedures:
Communicants are to come to the front of the line under the direction of an usher, where there is marked a two-metre (six-foot) line away from the minister of Communion.
After the dialogue (The Body of Christ / Amen), step forward to receive the Host, taking it in your hand (the dominant hand placed under the other).
Then step to the side, and remove your mask from behind one ear, consume the Host, replace the mask, and then return to your place in the pew, maintaining a six-foot walking distance with the person in front of you.
If you do not wish to receive Communion, cross your arms across your chest, and the Priest will give you a blessing.
Mass Departure Procedures:
You must follow the direction of the ushers when exiting the church in an orderly way, while maintaining physical distancing.
You can deposit your Sunday offertory in the basket at the exit.
You are asked to leave the church without spending social time with the priest or other parishioners at the door or in the parking lot.
Family of Parishes
Mass Schedules
St. Angela
980 Louis Avenue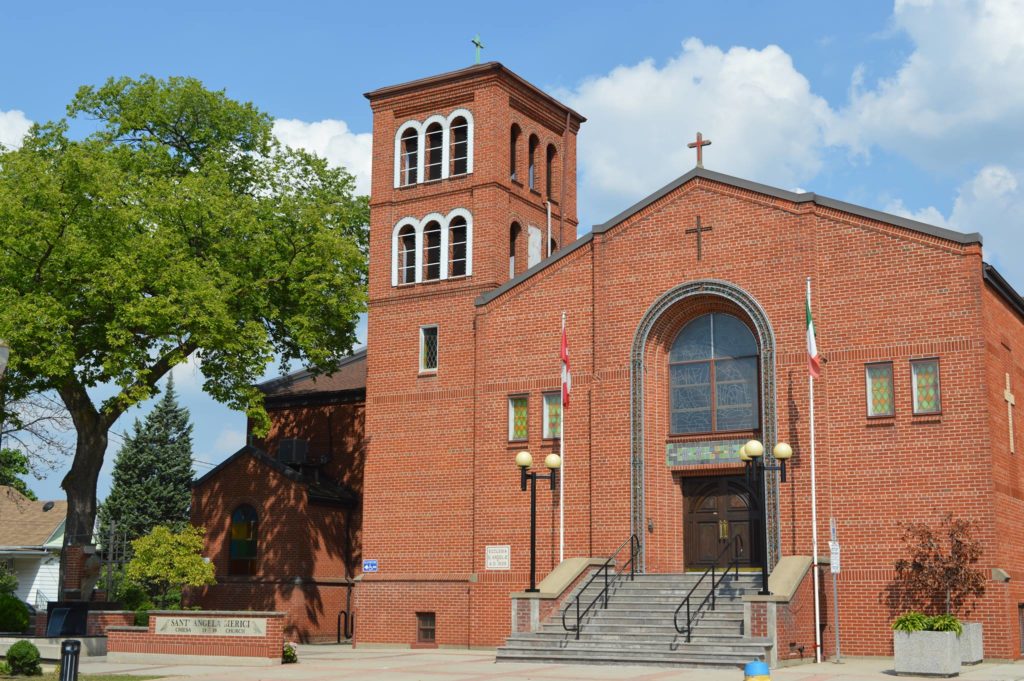 Weekends:
Saturday: 4:30pm (I)
Sunday: 9:30am (I), 11:30am
Reservations required for weekend masses.
Weekdays
Monday & Tuesday: 7:00 pm
Wednesday & Thursday: 7:00pm (I)
Confessions
Saturday: 3:30pm to 4:15pm
Wednesday: 6:30pm to 6:50pm
St. Alphonsus
85 Park Street East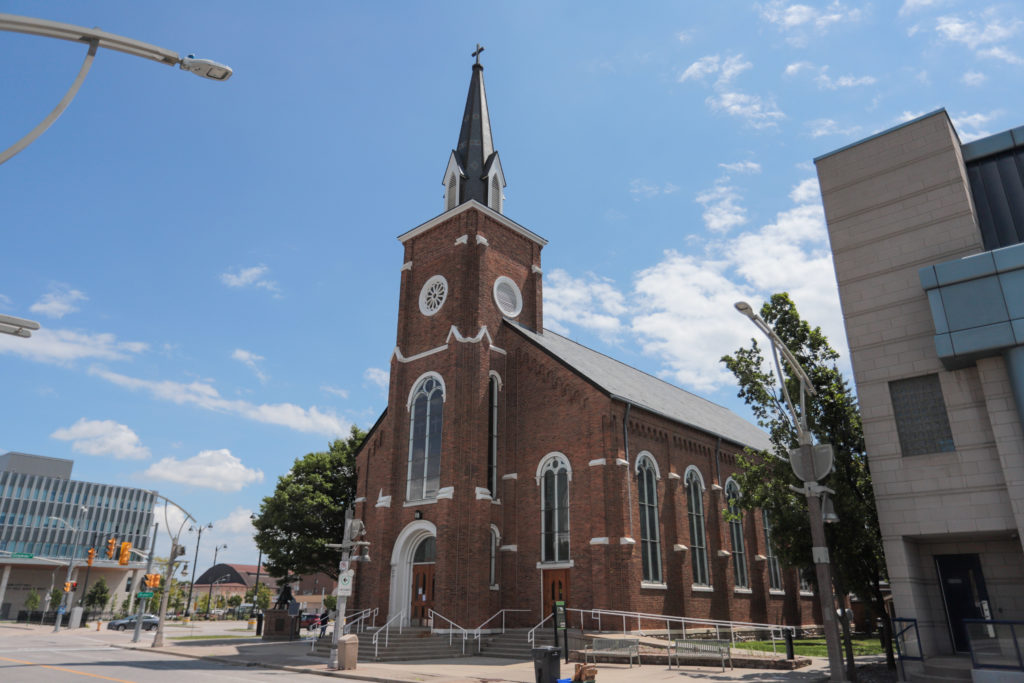 Weekends:
Saturday: 5pm
Sunday: 12noon and 5:30pm
Reservations required for weekend masses.
Weekdays:
Wednesday to Friday: 12noon
Confessions:
Saturday: 3:45pm to 4:45pm
Wednesday: 11:30am to 11:55am