Phase 2C – Interior
Expected to start in mid-2023
Once Phases 2A and 2B are complete, work will shift to the centre aisle. Phase 2C will consist of:
minor repair work on the choir loft
restoration of the organ
plaster consolidation for the centre ceiling
restoration of the Marian murals, Apostle canvas paintings, and Sanctuary Angel faces
cleaning of the attic and replacement of the attic insulation
electrical work and restoration of the chandeliers
new centre ceiling flood lights
centre ceiling fire alarm upgrades
completion of attic catwalk handrails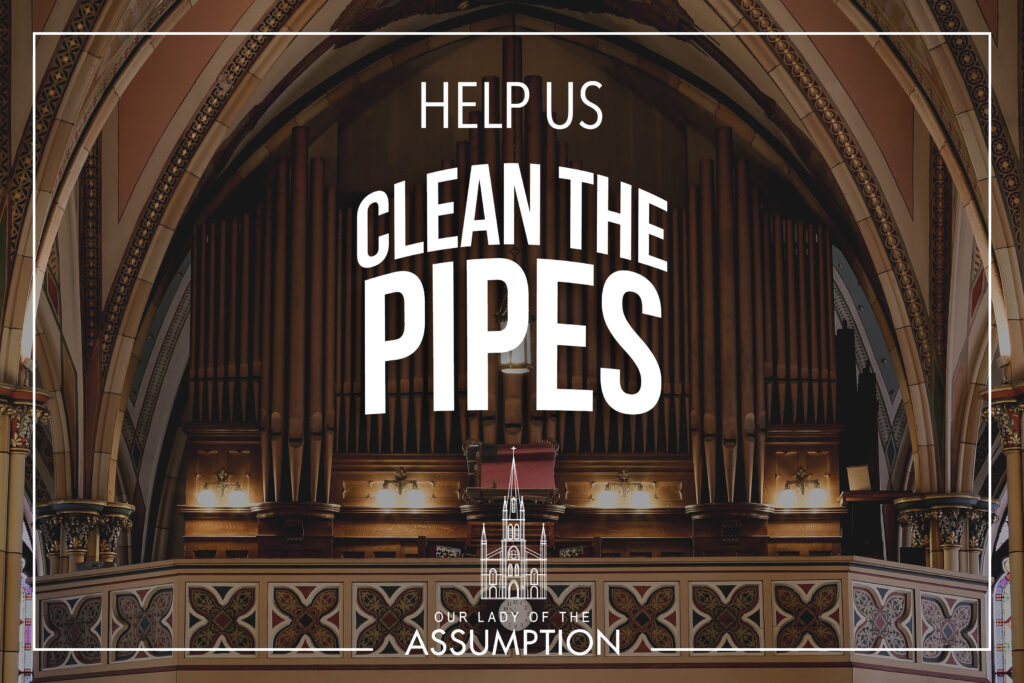 Help Us Clean The Pipes
Organ Restoration
Restoration is planned for the 104-year-old Casavant organ. This include temporary relocation of the organ's 1,985 pipes while the ceiling above is worked on, followed by cleaning, reassembly and tuning of the organ.
The organ was installed in 1919 thanks to a $6,500 donation ($107,000 in 2023 dollars, adjusted for inflation). Chimes were donated for the organ in 1943 (the church's centennial).
In 1986 the organ was repaired by Pole & Kingham of Chatham, Ontario.
In 1988 the organ was cleaned and modified by Gerhard Brunzema of Fergus, Ontario.
In 1991 the organ was repaired by Dodington & Dodington Pipe Organ Services lnc. of Aylmer, Ontario.